Copper Cable Wire Granulator Machine
| | |
| --- | --- |
| Tipo de Pago: | L/C,Paypal,Money Gram,Western Union |
| Terms of Trade: | FOB |
| Plazo de entrega: | 30 días |

| | |
| --- | --- |
| Paquete: | wooden case or customer demand. |
| Marca: | SUYUAN |
| transporte: | Ocean |
| Lugar de origen: | HENAN CHINA |
| Hafen: | QINGDAO |
Información básica
Modelo: SY-400/SY-600/SY-1000
Descripción del producto
| | | | | | | |
| --- | --- | --- | --- | --- | --- | --- |
| Model | External diamension(mm) | (KW) Airconveying | Wind sorting(KW) | Dust collection | Output(KG/H) | Weight(KG) |
| SY-400 | 2000*1850*2600 | N/A | 0.75+2.2 | 0.75 | 100-150 | 1800 |
| SY-600 | 4200*1900*3800 | 3 | 3.75 | 2.2 | 300-400 | 3500 |
| SY-1000 | 5180*2100*4200 | 4 | 3.75 | 3 | 800-1000 | 4600 |
PRODUCT APPLICATION & FIANL PRODUCTS
The Scrap Copper Cable Wire Crusher And Separator Machine With Simple Operation is dry type structure, mainly used to all kinds of waste copper wire, the copper wire will be separated into tiny copper rice and PVC. This machine can recycle the copper wire which diameterer is 0.3mm-20mm. Automobile electrical wire or the electric wire of car, motorcycle electric wire, computer case wire and communication calbe, etc.
Scrap Copper Cable Wire Crusher And Separator Machine With Simple Operation process the waste electric wire and cable into copper and plastic granule. Copper is separated from the plastic, separation efficiency can be 99%. For the copper granule, it can be sold directly or go to further refining. Through our copper electrolysis machine, the copper can be refined into cathode copper in above 99.99% purity. The plastic granules normally are PVC or rubber material, it can also be sold directly.
PRODUCT STRUCTURE
The Scrap Copper Cable Wire Crusher And Separator Machine With Simple Operation consists of shredding system, crushing system, sorting system and dust collection system. The whole process is controlled by PLC.Through shredding, crushing, vibration screening,( 58778090,the incompletely separated metal and nonmetal will reentry into the crushing machine and be crushed again) gravity separating, electrostatic separating and pulse dust collecting, the separation rate of the copper and plastic will reach about 99% , eventually get metal and non-metallic collective.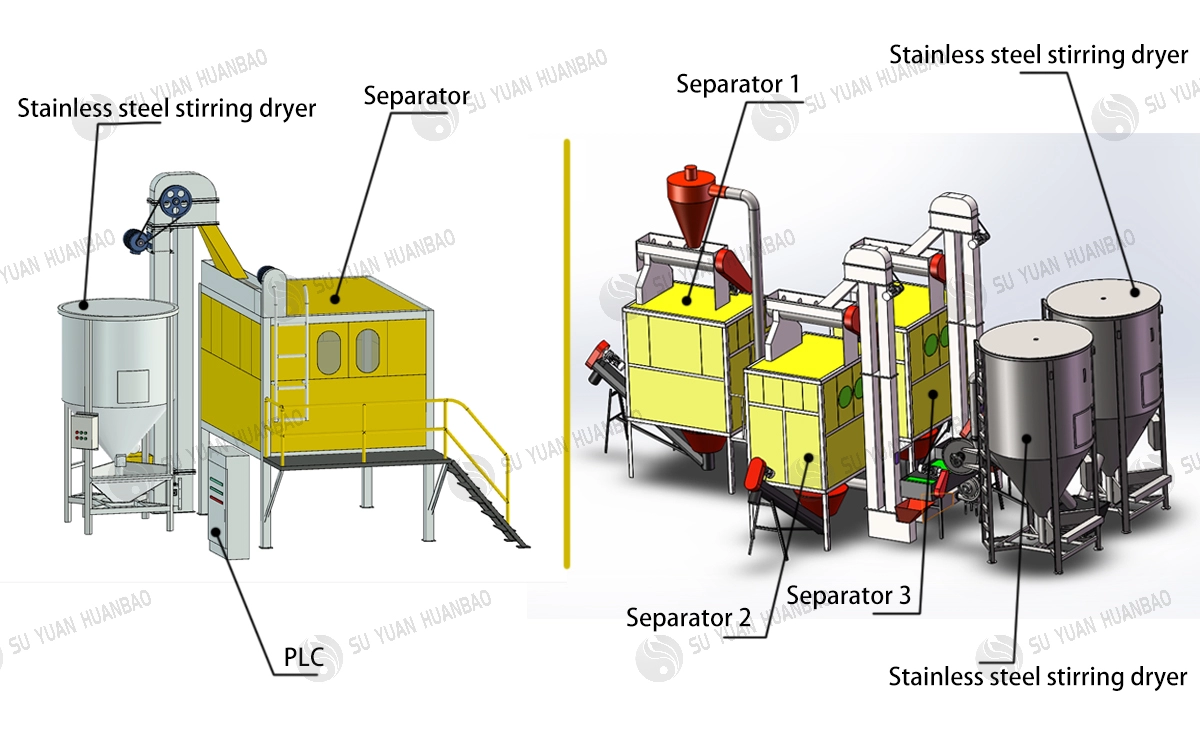 ROCESS DESCRIPTION
For the small capacity, the cable wire raw material can be put into the all-in-one machine directly, after crushing, then the air separtor will make the copper and plastic suspended on the screen. Then the Copper will be separated from the plastic by weighting method and the friction force which produced by the Surface of the mesh.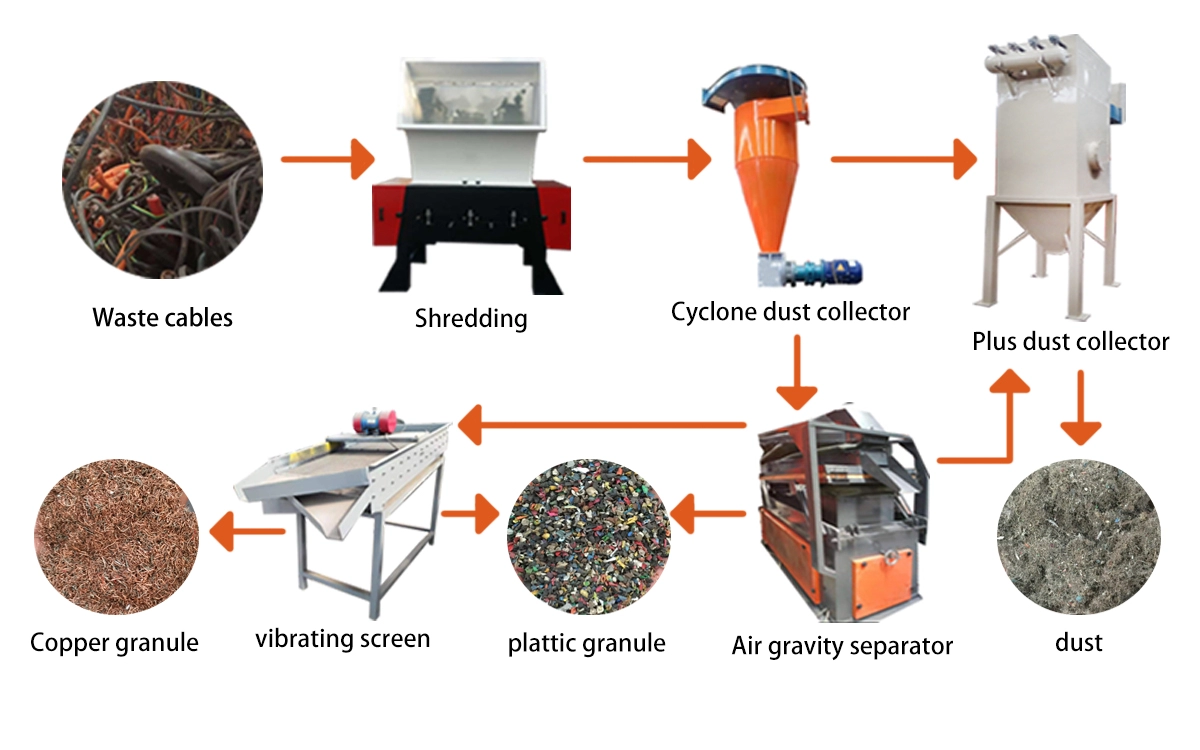 1. Compact structure and reasonable layout, safe and reliable, easy to install, No dust outlet, the dust separation rate can reach up to 99%.
2. Controlled by PLC. Continuous feed, intelligent operation, automatic alarm make it easy to operate and save your time and energy, to ensure the stable operation of the equipment.
3. Back feeding system will crush the unfinished material again, which guarantee the totally separation of copper and plastic.
4. This Scrap Copper Cable Wire Crusher And Separator Machine With Simple Operation use the air separator and the high voltage electrostatic separator together, to improve the recovery rate up to 99%.
Company Profile:
China Henan Traceability Environmental Protection Equipment Co., LTD., founded in 2002,it is one of the early few domestic manufacturers of renewable resources recycling equipment.In the past 20 years, we have been focusing on the research and manufacturing of various waste resources separation, sorting and regeneration equipment.

The company mainly produces: Pcb Recycling Machines;Copper Wire Recycling Machines;Copper Aluminum Recycling Machines;Aluminum Plastic Recycling Machines;Radiator Separator those;Plastic Recycling Machines.

The Circuit Board Dismantaling Machine, through years of market verification, has stable and reliable equipment, and the Copper Wire Recycling Machine can realize the effect of no plastic in Copper and no Copper in plastic, which is advanced in China and highly recognized in the market.

Our company always adhere to the credibility of the first, customer first principle, to achieve the combination of quality products and quality service.We will with high quality products and reputation, dedicated service and new and old customers, to jointly create a clean blue sky and efforts.

Because we are professional, we are trustworthy;Because we work hard, we do better!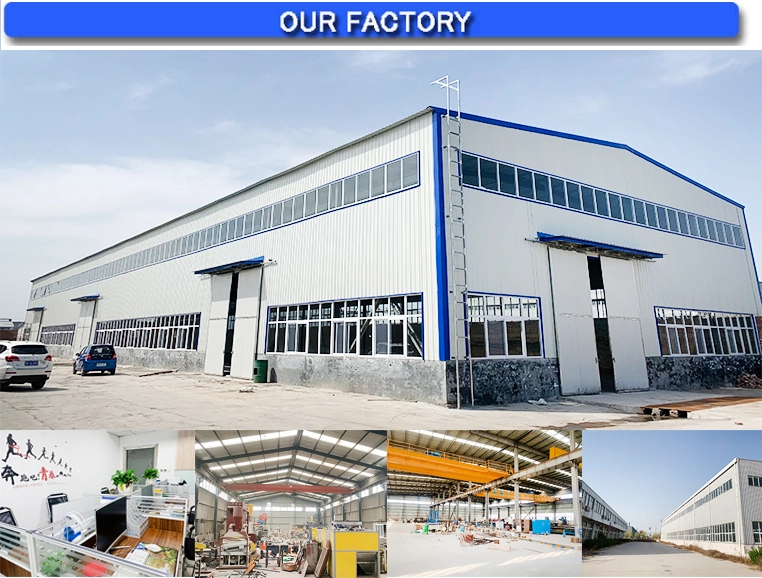 Xinxiang Traceability Environmental Protection Equipment Co. Ltd. was established in the end of 2002.For more than 18 years, we have been committed to the research and manufacture of various waste resources separation and sorting recycling equipments.
The company has always adhered to the principle of " Service First, Customer First ". We will serve the new and old customers with high quality products and service. We will contribute to create a healthy and environmental world together !
Our Customer visiting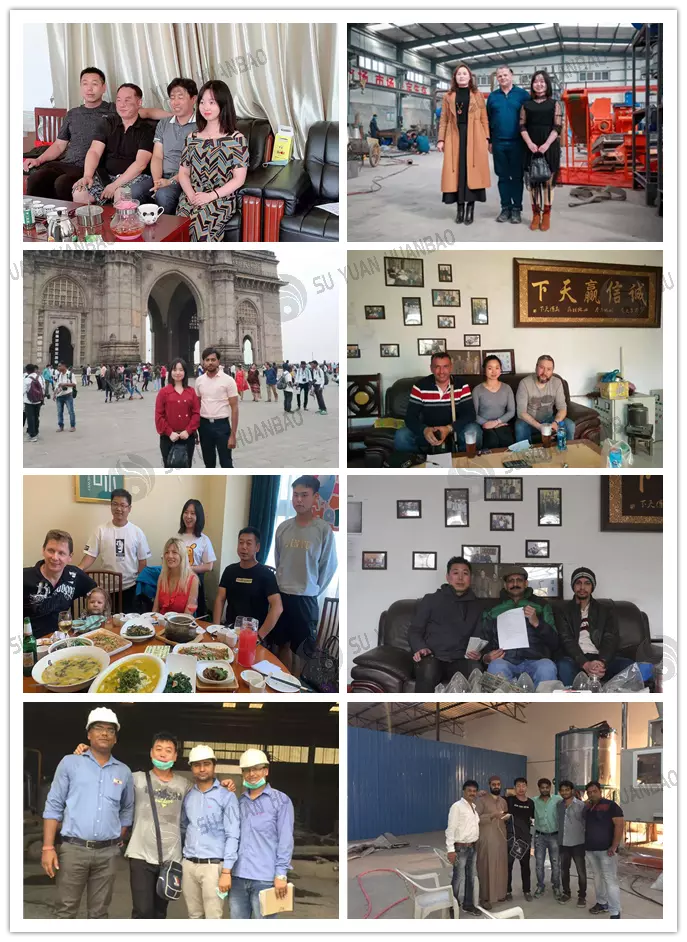 Our Certificates

Q: Why Choose Us?
1)Eighteen year's experience,Enjoy a high reputation at home and abroad
Our factory has been dedicated to recycling equipment for 18 years. Our machines have high reputation both at home and abroad (Such as the Middle East, Southeast Asia, Africa and so on more than 10 countries and regions)
2) Price advantage
We are manufacturers, not dealer. Factory direct sale makes price more competitive.
3) Fast Delivery:
We promise the goods can be shipped out on delivery date after confirmation of the order.
Q: How to ensure the quality of the machine ?
You can send your sample scrap materials to us, we will test the machine for you for free. We also warmly welcome you to visit our factory to test our machine personally.
Q: Which brand of motor will you use?
We use domestic motor manufatured by Chinese-famous suppliers, but you can choose Siemens or other brand motor.
Contact us:
Xinxiang Traceability Environmental Protection Equipment Co., Ltd.
Xinxiang Trazability Environmental Protection Equipment Co. Ltd. se estableció a fines de 2002. Durante más de 18 años, nos hemos comprometido a la investigación y fabricación de diversos recursos de residuos que separan y clasifican equipos de reciclaje.
Nuestra empresa siempre se ha adherido al principio de "Servicio primero, cliente primero". Hemos establecido redes de servicio al cliente en más de 25 países, como Europa, América, América del Sur, Medio Oriente, Sudeste de Asia, África, etc. Continuaremos sirviendo a los clientes nuevos y antiguos con productos y servicios de alta calidad. ¡Contribuiremos a crear un mundo saludable y ambiental juntos!

Nombre de empresa: Xinxiang Traceability Environmental Protection Equipment Co., Ltd.
Representante: Junjie Li
Producto / Servicio: Máquinas de reciclaje de pcb , Máquinas de reciclaje de plástico , Máquinas de reciclaje de alambre de cobre , Máquinas de reciclaje de cobre y aluminio , Máquinas de reciclaje de aluminio y plástico , Máquinas separadoras de radiadores
Capital (Million US $): 1,000,000RMB
Año de fundación: 2019
Facturación Annual: US$50 Million - US$100 Million
Porcentaje de exportación: 91% - 100%
Volumen Total de Compras anual (Millones de dólares EE.UU.): US$5 Million - US$10 Million
Número de Líneas de Producción: 10
Número de empleados para investigación y desarrollo: 5 -10 People
Número de empleados para control de calidad: 5 -10 People
Servicio del OEM proporcionado: yes
Tamaño de la fábrica (metros cuadrados): Above 100,000 square meters
Ubicación de la fábrica: 800 meters west of Weihe bridge, Anyang City, Henan Province
Persona de Contacto: Mr. Junjie Li
Número de Teléfono: 86-0373-5812066